Welcome to happy schooling
Excellent in quality, small in size
Pellentesque eget pretium velit, eu porttitor eros. Etiam vitae sem eget dolor rhoncus sagittis ut nec sapien. Etiam dapibus elit mauris.
Excelsior English School was founded in 1992. The concept that governs the school is 'excellent in quality , small in size'. The norms of schooling have undergone a sea change and we are at a point of time when new strategies and ideas need to be worked out to make learning and teaching interesting for the students. Children's interests and mindsets have changed. Technology now plays a major role in education. AI and Internet has revolutionised the world and more so our youth. It is time to eliminate age old methods of teaching and learning as the teachers role is now of a facilitator and tools of learning have shifted to experimental learning and virtual classrooms.
We at Excelsior always remain updated on the current trends in education. One guiding factor that we are proud of is the concept of limited numbers in classes which facilitates maximum student teacher interaction. Student's priorities have shifted and we need to plan our strategies accordingly. We are able to maintain discipline with gentleness. A strong bonding with the student is an added advantage with small classrooms. I am sure a student who goes out after completing schooling with us will be emotionally mature and value driven with good moral values. We need a generation of such citizens to carry our country onward.
The mantra we try to instill in our students is there is no substitute for hardwork. Pursue excellence and success will chase you. Dream big,align your passion and purpose in life with a goal. If you focus on your goals you will overcome all obstacles.Aim at always being the best. It is very important to be positive and optimistic in life. Have self confidence and believe in your potential.
The concept of schooling has undergone a paradigm shift in the past 3 decades. When we started Excelsior
More
Principal's Column
NOV 27th- DEC 1st 
Students of grades X to XII have completed their Model exams as preparation for the upcoming Term 1 CBSE Board Exams. Students have been given their answer scripts and answers have been discussed. Revision and remedial classes continued till Nov 27th.CBSE Board practical have been completed for the students of Grade XII.
Excelsior is the Centre for CBSE Exam this year for our students. The school has geared up following all instructions given by the government as well as CBSE for the smooth conduct of Term 1 Exams. It starts from the 29th of Nov with the 1st exam for Grade X.
Grade XI students has started classes offline and continue till 22nd of Dec. Their Term I exam takes place every Monday for each subject.
Radio Excelsior 2.0 has successfully completed 4 episodes till date. The 5th episode will be based on Christmas celebrations.

CBSE Board Examinations will start next week for grades X & XII
One Cycle of students of all classes from across the school attended a half day class  @ school.
Classes for Prep1 to Grade IX continue online.
CBSE Board practicals  Term 1 completed for the year 2021-22 batch.
Offline classes for grades X,XI & XII @school.
Life at Excelsior is extremely challenging and action packed. There are events and activities that happen all year long keeping the students proactive and engaged in various pursuits of excellence.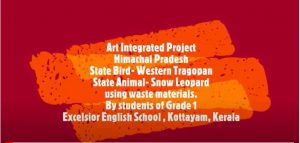 Art Integrated project November activity compilation- Western Tragopan and Snow leopard craft using waste materials and seeds by Grade 1.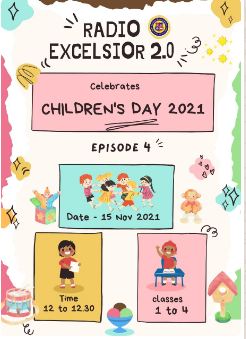 Children's Day 2021
The teachers and students of Excelsior English School put up a great show on the Children's day. The event was telecasted as an episode of the school Radio channel named 'Radio Excelsior 2.0'.
The event was informative and entertaining at the same time.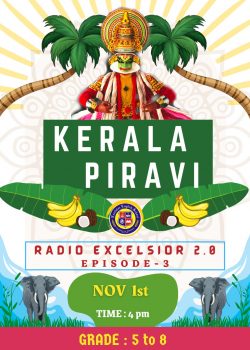 Radio Excelsior 2.0
 Kerala Piravi 2021 episode
Beyond Classrooms
Staff Synergy
Alumni Achievements
EMUN
BUDDING ENTREPRENEUR..
ROHIT ABRAHAM GRADE XI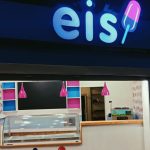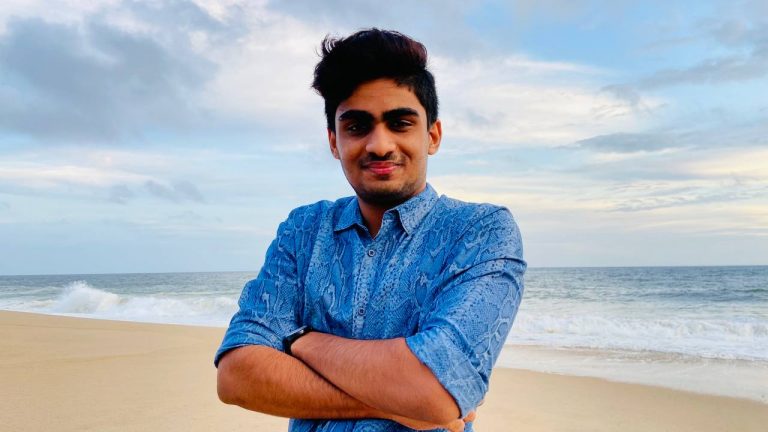 I got into business not only because it was my passion but also to be financially self-sufficient. My love for kulfis led me to create this initiative and because there weren't many good kulfi stores in town. I've always dreamt of starting my own business and with the support of my friends and family, I was able to achieve that dream at a young age.